With only a few weeks until the big game, it may be time to consider stocking up for that February 4th Super Bowl party before stores begin running out of the best snacks and drinks.  Consumers will be ransacking the stores, averaging $82.19 per person on purchases of electronics, apparel, and food for the big game.
What will be selling this year?
Sales on food and drinks especially skyrocket during the two weeks leading up to the big game, as the occasion calls for some of the biggest in-home parties of the year. Stores should begin seeing the influx of football fans mid-January, with an estimate of almost $700 million worth of salty snacks expected to be sold across the nation.
Retailers find their stores reaching peak sales with continuous one-stop shoppers stocking up on food and drink options for parties. This raises the question: how can a product company take advantage of this high traffic time? In-store product displays, themed to the Super Bowl, statistically result in both greater sales and brand awareness by providing convenience and aesthetic appeal to potential customers.
What are the most efficient ways to sell more product? 
Not necessarily social media . . .
While many brands prioritize commercials and social media campaigns for marketing their product, in-store advertising is key to solidify consumer decisions in the moment. POPAI's study discovered that 76% of purchasing decisions are made in the store, therefore product representation is highly impactful on sales. As many customers make extremely quick buying decisions, displays play a vital role by catching the buyer's attention and providing convenient access to products.
Not necessarily price reduction . . .
Another common strategy for product companies is to lower prices during high traffic times, but research has exhibited physical displays will give a much larger return on investment:
"9% of U.S. shoppers impulsively buy from categories they didn't plan to when they entered the store. Of that group, 24% said they were influenced by secondary displays (away from the product's usual aisle), 18% by in-store demonstrations, and only 17% by price promotion. "
"The convenience-store study found an even larger share of impulse purchases was driven by display — 49% in the case of the snack brand in question…but no additional lift for price-driven decisions."
"9% of U.S. shoppers have a category in mind but pick their brand in store, and of those, 31% were influenced by in-store demonstrations — more than the 28% influenced by price promotion"
It is apparent that product displays are a great investment around big events, such as the Super Bowl. Bring in sales and awareness by showing off the product in creative and fun ways!
Our Favorite Super Bowl in-store displays
Throughout the years, product displays across the nation have battled to be the most creative and eye-catching. Displays get bigger and better each year, invading almost every major store across the country. Many of these combine multiple products to make a scene, bring in large props that hover over the shoppers, and even can require rather complex crafting! Here are some of our favorites and why we love them.
1. The Front-of-the-Store Display

A classic position for many in-store displays, this high-reaching soda display cannot be ignored when a customer enters the store. Simplicity and aesthetic, combined with easy access, makes this a top display for us. Bonus: Check out those box players on the top!
You pop open your beer and reach down in the pretzel bag. The recliner is the perfect distance from the TV. It really feels like you're in the game. However, you are not really in the game. You are in the grocery store and the manager is wondering why you're in their display.
Another favorite of ours is this interactive in-store display that allows you to truly envision yourself with the product at home. Creativity and comfort, two things that can bring in any customer!
3. Outside-of-the-Store "In-Store" Display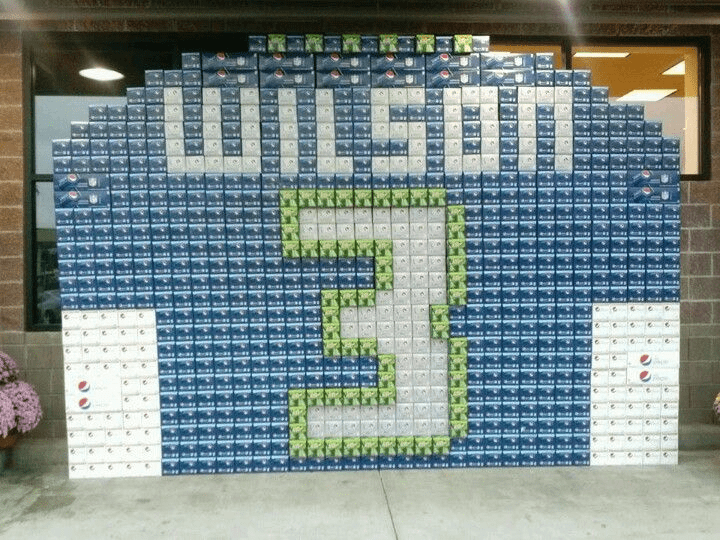 There's two things to love about this display–the positioning outside the store AND the home team theme! Call us biased, but we have to give a nod to our home team in Seattle during this time of year even if we didn't make it too far. Beyond that, this large display catches attention from shoppers and anyone driving by the store. While it would be difficult to pull a box from and the price is not clear, we just hope that it is accessible right inside the store.