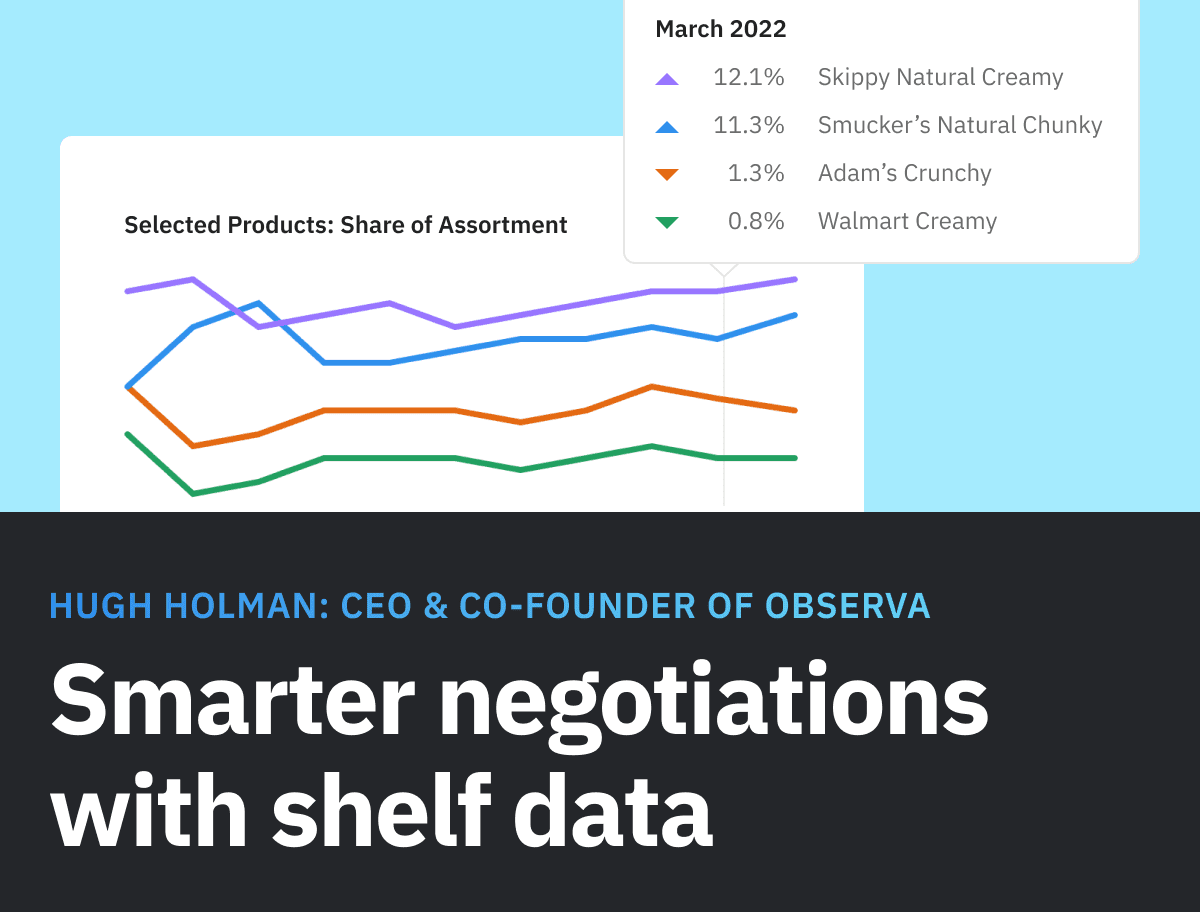 Below is an interview with Hugh Holman, the CEO and Co-Founder of Observa.
You worked at a CPG brand prior to founding Observa. What challenges did you face while working there?
When I worked at Aqua Star, I wanted to help buyers to optimize their planograms by using shelf and sales data. To make effective recommendations, I needed to know the existing planograms' product mix. I also needed to demonstrate how my proposed adjustments would drive sales both in the category and from a basket of goods perspective.
Unfortunately, I had little to no visibility into the state of the stores and shelves. I tried to remedy this by hiring people to audit stores and painstakingly enter data into spreadsheets, going product by product and shelf by shelf. This approach was helpful, but it had its drawbacks. It was slow, costly, inaccurate, and didn't allow us to assess many stores.
Could you give us a short introduction to Category Intelligence?
Category Intelligence offers CPG brands an unprecedented level of visibility. It's everything I wished I had at Aqua Star!
You get historical trends for every product in your category across multiple banners throughout the United States. You're able to see both the big picture and the finer details. You can filter by region, state, chain, individual store, and at any level you can report and see:
Facing counts
Share of shelf
Share of assortment
How your products are positioned
Where your competitors' products are placed
New products in the category
Shelf photos
Category Intelligence's powerful, comprehensive data enables you to lead data-driven negotiations with buyers and make smarter decisions faster.
How do buyers react when you present this degree of data to them?
They're impressed!
Look, lots of vendors talk to buyers every day. They're bombarded by sellers who all claim to have the best product, but that sales strategy isn't effective in helping the buyer achieve their category goals for each store in the chain. Presenting shelf data about the merchandising quality of the stores they are responsible for and showing how that is impacting sales is far more powerful.
Risk reduction is important to buyers, because at the end of the day, their job is to stock a product mix that will appeal to shoppers and keep them coming back. They want shoppers to find the products they're looking for and discover new ones they'll enjoy.
If you can illustrate why your products will sell more than the competition, you're reducing risk and making the buyer's job easier. Plus, if you point out to them that they're missing sales because of a gap in their set, you'll help them attract new customers while keeping current customers from needing to find products at their competitor's stores.
Couldn't I just hire employees to do this work?
Sure, but it just isn't cost-effective to manage the collection and reporting of this kind of information without technology to ensure consistency and quality. I learned firsthand at Aqua Star that you can't get to many locations across broad geographies quickly with a small number of people in the field and it was a nightmare to ensure consistency in the information. It just wasn't possible to do this work from a time, cost, and coverage standpoint.
At Observa, we have a crowd of 400,000+ field reps to capture shelf data at scale, as well as an in-house quality assurance team to manage accuracy. Our streamlined process ensures that you have access to timely, reliable data every day.
How much does this cost?
Category Intelligence is available as an annual subscription with unlimited seats. Plans start as low as a thousand dollars per month and vary based on the depth of information provided.
Why is sales data not enough?
Sales data is important, but it's only one piece of the puzzle. It doesn't provide any information about the state of the shelf, which is the quality of merchandising. With Category Intelligence, you can actually see what your customers see from a product, pricing, and promotions perspective.

Without this path-to-purchase information, you won't have any real idea of how to adjust the shelf to increase future sales, and it will be hard to persuade buyers that your approach and recommendations are right for them.
One of our clients recently told me that he now has more data than buyers he sells to. Think about that. He has more data than they do. This gives him a serious competitive edge.

He backs up his arguments with shelf data including photos that cannot be dismissed. Like I said earlier, buyers ultimately want to reduce risk, so it's hard for them to dispute recommendations that are supported by concrete evidence. Plus, it's a win-win situation!
What does the future hold for Category Intelligence?
I envision Category Intelligence as a one-stop shop for CPG brands to get data on what's happening in stores and on shelves. In the near future, I believe that data-driven negotiations will be the norm and Category Intelligence will be the gold standard.
Ready to win at the shelf?
Learn more about how Category Intelligence can benefit your business.