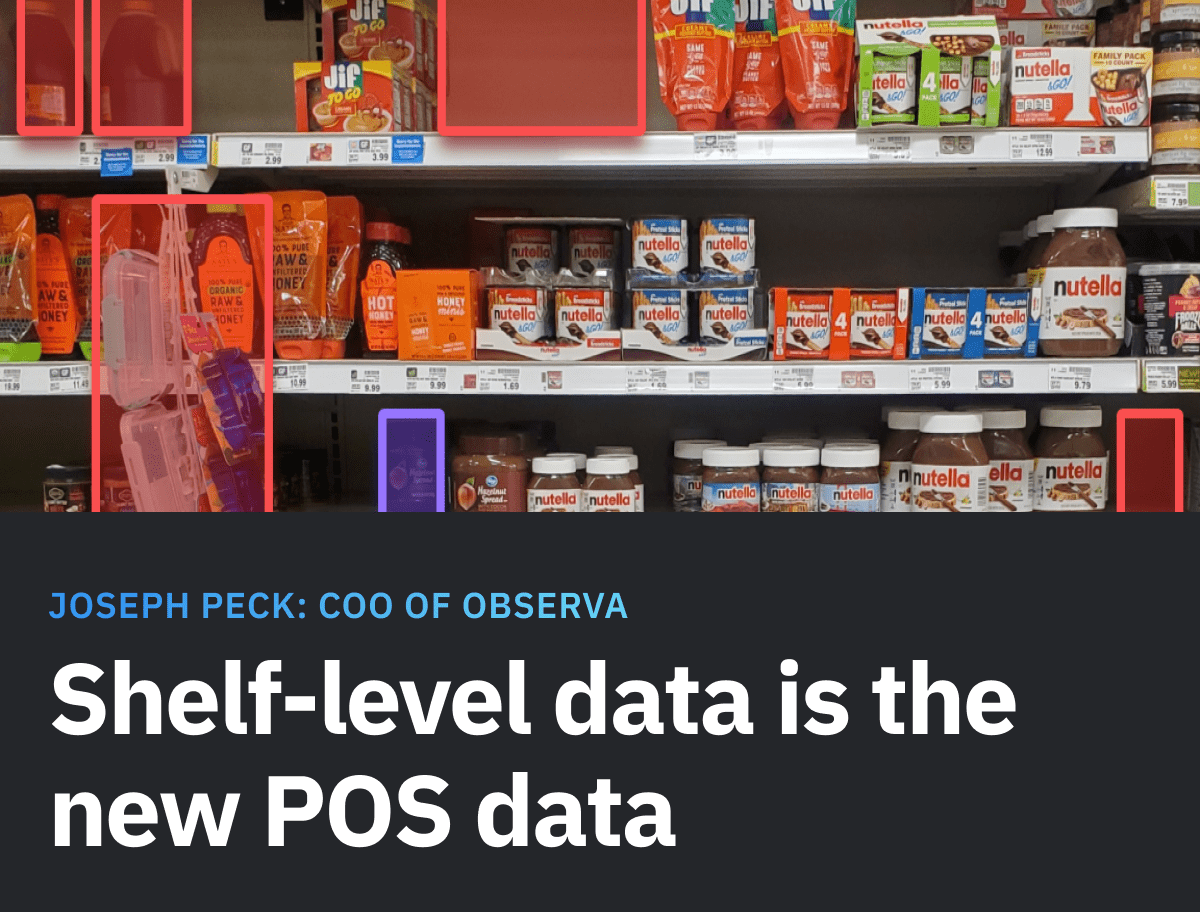 The following is an interview with Joseph Peck, the COO of Observa.
Could you provide a brief overview of Category Intelligence?
Category Intelligence is a single source of truth for CPG brands. It brings together the metrics that matter, so you can make data-driven decisions for your business.
Here at Observa, we want you to know as much as possible about the retail environments where you compete. That's why you'll routinely receive shelf-level data across multiple banners throughout the United States. With Category Intelligence, you track trends within and across banners and regions including:
Facings
Share of shelf
Share of assortment
Where your products are positioned
Where your competitors' products are placed
New entrants in the category
With all this information at your fingertips, your executives, salespeople, marketers, and partners can make strategic decisions quickly. Maybe you want to grow in a new category. Maybe you want to partner with a leading brand. Maybe you want to acquire an entrant. With Category Intelligence, the right data to make these strategic decisions is possible.
What store formats can you visit, and what is your coverage?
It really depends on the category. Right now, we're focused on national and regional chains for grocery and mass merchandise. That's not to say that the system isn't flexible. It most certainly is.
We always want to provide the clearest view of a category. Let's use painkillers as an example. They're available in grocery and mass, but they're also in drug, dollar, and convenience stores. To accurately represent the category, we expand into these additional store formats as needed. Our crowd gives us the flexibility to go almost anywhere.
What percentage of each banner is covered? What percentage of each part of the country is covered?
In grocery and mass there are nearly 25,000 locations across the top 35 national and regional retailers in the U.S. Our sampling approach covers over 120% of these locations on an annual basis to ensure thorough coverage and trends based on statistically significant data sets.
We cover the entire country and divide it into six regions and 50 states, so you get roughly the same percentage of data from each. We also ensure there is a mix of top metro areas along with rural stores.
Can I see historical data?
Yes, you can view historical data for a category we're currently tracking. For obvious reasons, a new category will not have that information available.
How much does this cost?
Category Intelligence is available as an annual subscription with unlimited seats. Plans start as low as a thousand dollars and vary based on the depth of information provided.
How does this differ from POS data?
Category Intelligence provides data much, much faster than POS data. Retail moves at a rapid pace. You shouldn't have to wait four weeks or more to know how your products are performing.
Data is available as it comes in, so you can analyze and act in a timely manner. New data is published daily, and we have a team of quality analysts whose sole job is to ensure that everything is accurate.
And this data isn't just fast, it's unique. Unlike POS data, you have access to information about the shelf and competitors positioning, not just the register. With the luxury of more time and insights, you can:
Identify potential problems by region and banner.
See store, brand, and product-level data for your products and your competitors' products.
Get the space, pricing, and placement that you paid for in your trade deal.
Pair with sales data to optimize retail execution programs.
What does the future hold for Category Intelligence?
In the POS data market today, you need subscriptions from many providers. Those subscriptions are pricey and you frequently need to pay extra for multiple seats. That's not the case with Category Intelligence.
We envision Category Intelligence as an affordable, centralized place for CPG brands to get data on what's happening in stores and on shelves. We're talking about all the retailers, all the brands, all the time. In the near future, we believe that Category Intelligence's shelf-level data will be as central to every company as POS data is today.
Ready to win at the shelf?
Learn more about how Category Intelligence can benefit your business.