Cashierless Stores: The Future or a Fad?
Retail technology is rapidly advancing to increase productivity and save retailers money. A major change in recent years is the reduction of cashiers by using both self and automated checkout, but retail experts are wondering if these advancements are here to stay or just a fad that won't hold.
With Amazon leading the latest shift by implementing its Amazon Go cashierless stores in a few cities, other chains are following in these footsteps. Sam's Club, Walmart, and Kroger released announcements that they will start using similar technologies to increase convenience for shoppers and decrease the time of traditional lines. Additionally, completely new players with little to no retail background are entering the field of automated checkout in China, France, the US, and more.
The Barriers: Size and Cost
In order to understand the barriers of entry for major retailers adopting these types of technology, it is important to recognize how they differ from the Amazon Go stores. The Amazon Go stores are smaller and offer more fresh-to-go foods, making it a place to grab a few items rather than a week's worth of groceries. Because of this, the adoption of this exact technology by traditional retailers is costly and difficult to install across large stores.
However, considering the overwhelmingly positive public response for both self and automated checkouts, it's important to analyze the implications of other stores adopting any type of similar practices in the coming years. In looking at the potential for these technologies, it is clear that they are here to stay and could lead to a paradigm shift in the retail world as we know it.
The Changes: Cashierless, Not Employeeless
Not having cashiers does not mean having no employees. The already established cashierless system, self checkout, demonstrates the need for employees to be present to help with issues. Even after two decades of self checkout, issues arise every few minutes in a store. This is similar to automated checkout because issues are inevitable in the early adoption, and employees will be needed to offer customer service.
Furthermore, employees are still needed to check IDs for the sale of alcoholic beverages, assist with restocking, and direct customers. Having people to help the store function and offer personal assistance will be necessary for a long time.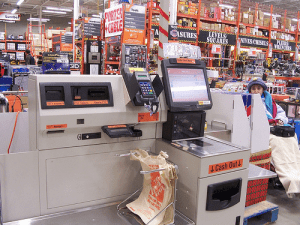 Self Checkout seen at Home Depot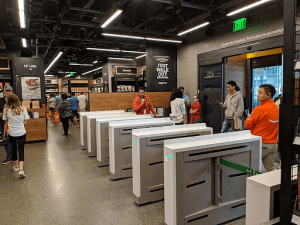 Cashierless Technology implemented at Amazon Go
The Benefits: Increased Sales, Speed, and Convenience
Slow lines cost approximately $37.7 billion in potential sales per year, according to research director Jordan McKee. By decreasing wait time in lines, customers are more likely to purchase items, which would help both the shopper's experience and retailer's profit.
Rob Gallo, chief marketing officer at retail consultant company Impact 21, stated, "Lowering overhead costs can keep retailers more competitive on price. Managed properly in the right locations, self checkout can get customers out of the store faster."
Meanwhile, employees can focus on other tasks in the store, such as helping customers and stocking, which additionally improves the customer experience.
The Concerns: Cash, Data, and Privacy
The quick adoption of this technology prompted discussion on issues like the payment methods and data security. With many people still using cash as their preferred payment method, stores like Amazon Go force shoppers to use their app for payment. Customers that are unwilling to change their payment methods while shopping would not be able to shop in these stores. If stores want to combat this determent, they could have one checkout area that accepts cash or card.
While convenience and speed are obvious reasons to use this technology, retailers also benefit from the information that is collected. Since in-store videos track customer's reactions and movements, this data can be used to better understand and potentially manipulate the shopper experience. The main concern from shoppers is the security of this information.
In a survey by Harvard Business Review, 19 percent of people expressed discomfort in knowing that a store is tracking their movement and information. As more stores begin using these types of technology, stores will need to communicate to curious consumers the information they collect and ensure the data is kept highly secure. As an example, Amazon already clarified that they do not keep customer data for longer than needed to create a receipt, except for the small amount of information needed to train future algorithms.
The Future: Some Implementation and Growth
Because of the great success and expansion of Amazon Go stores as well as the announcements from many other retailers stating that they will follow in Amazon's footsteps, it appears that this type of technology is here to stay. Currently, the main barrier to adopting this technology is the high cost, and until retailers' savings and customer experience outweigh the cost, it will be difficult for it to spread.