FREQUENTLY ASKED QUESTIONS
WHAT IS OBSERVA?
Observa is an app where you can get paid for completing surveys in stores, or "opportunities." These involve answering a few questions, taking some photos, and speaking with a store associate or manager. Here's also a video that may help answer any questions: www.observanow.com/cl-observers
Download the app from either the Google Play Store or the iOS App Store, create an account using the same email you use for PayPal (since that's how you get paid), and take a look around there and see if there are any opportunities near you. If not, don't worry – we launch new campaigns all the time with opportunities across the country. You'll be sent a notification whenever new opportunities are near you once you create your Observa account.
HOW DO I DOWNLOAD THE APP?
HOW DO I SUBMIT PHOTOS FOR OBSERVATIONS?
ALL PHOTOS MUST BE TAKEN WITHIN THE OBSERVA APP. When completing an observation, click "Add Photo" and take the required photo there. You cannot upload photos from your phone's camera roll into the app, and any photos submitted via email will not be accepted.
WHAT KIND OF OPPORTUNITIES CAN I DO?
Currently, most opportunities with Observa involve going to a retailer and answering questions about brands in the store.
There are also Photo Challenge opportunities, which can be completed from anywhere as long as they follow the guidelines of that specific opportunity. The Photo Challenges are contests, and submissions get entered into a drawing for a daily prize. (See more specific guidelines in the app.)
HOW MUCH MONEY WILL I GET PAID?
Payment differs for each opportunity. Most opportunities pay somewhere between $4-12, and require no more than 10-15 minutes of your time. There is no limit on the number of opportunities you can complete, but keep in mind you only have two hours to complete the opportunity after accepting it.
HOW DO I GET PAID / CHANGE MY PAYMENT EMAIL?
Payment is made via PayPal or Coinbase. We issue payment to the email that you sign up for Observa with.
If you need to change your payment email, you can do so here.
WHAT ARE MY PAYMENT OPTIONS?
We currently only pay via PayPal or Coinbase. Coinbase includes Bitcoin, Bitcoin Cash, Ethereum, and Litecoin payments.
If you need to change your payment email, you can do so here.
HOW QUICKLY DO I GET PAID?
After your observation is submitted, your observation must be validated and accepted before you are issued payment. The validation process involves ensuring you were at the correct location, and that you completely answered each question according to the instructions. You can expect the validation process to take up to 72 hours (3 days) of your submission. Validation may take longer than 72 hours on the weekends or holidays.
In order to ensure prompt payment, it is very important that you are thorough in your completion of observations, and that the information you submit is 100% accurate.
WHERE IS OBSERVA AVAILABLE?
Observa has opportunities available across North America. You will be alerted via email or the app, via push notifications, when there are opportunities nearby you once you create an account.
WHAT ARE THE RULES ON ACCEPTING OBSERVATIONS?
Observers can't accept the same opportunity more than 5 times (meaning – you cannot accept and then decline or let the opportunity itself expire, then re-accept it 4 additional times)
AUG 2019 UPDATE: Accepting observations and allowing them to expire or declining them before completing them will result in fewer available attempts per opportunity.
If you accepted an opportunity and hold on to it for more than 125 minutes, you will have to wait 30 minutes to accept it again.
If you accepted an opportunity, but now other Observers are on the waitlist for that opportunity, you will have to wait 30 minutes to accept it again.
Observa highly discourages "squatting" (accepting, declining, then re-accepting the same opportunity multiple times) as it is not in the spirit of Observa. All opportunities should be first-come, first-served. Please only accept the opportunity if you are sure you will be able to complete it within the two-hour time frame. If you are caught squatting multiple times, you may be contacted by Observa with a warning or be banned from the app.
WHEN WILL YOU HAVE MORE OPPORTUNITIES IN MY AREA?
All of our locations, and frequency of opportunities, are chosen by our customers. They provide us with a store list based on their retail needs, and we put those Observations on the map. Although we do not have a strong geographical influence, or an exact date to expect more gigs, we do hope to be back in your area in the very near future!
HOW DO I DISABLE LOCATION TRACKING?
Location tracking is required during observations, as it helps us prevent fraud. We also use this information to alert you whenever there are new opportunities near you. That being said, if you want to disable location tracking outside of observations, go to the Preferences section of the app and uncheck Allow my location to be tracked.
HOW DO I LINK MY OBSERVA LOGIN EMAIL TO MY PAYPAL ACCOUNT?
Follow this link or go to www.paypal.com and login to your account. Click 'Profile' near the top right of the page which is depicted as the "gear symbol". Then, click "+" beside "Email" and add the email that you used to sign up for Observa with.
If you need to change your payment email for your Observa account, you can do so here.
I AM HAVING TROUBLE WITH THE OBSERVA MOBILE APP. WHAT DO I DO?
If you are having trouble uploading a completed observation, make sure that you have a strong internet connection. If the screen is stuck loading when you open it, try force-quitting the Observa app and reopening it. Should troubles persist, try un-installing and reinstalling the app.
Still having trouble? Please contact us at support@observanow.com.
HOW DO I FIND MY REFERRAL LINK?
WHAT DO I DO IF A STORE IS PERMANENTLY CLOSED?
If you go to complete an observation and the store location is permanently closed, please submit photos of the old storefront IN THE OPPORTUNITY. (Take a photo of the closed store wherever a photo is required.)
You will still be compensated for your time and efforts, but we need proof that you went and tried. We appreciate it when our observers let us know so we can update our database!
WHAT IF NONE OF THE PRODUCTS ARE CARRIED?
First, ask an an employee to make sure the products are not located elsewhere in the store.
It's common that the products may not be on the shelf. In this case, please submit photos of all similar products. The photos should include the full section from the floor to the top shelf, as confirmation to show that the products in question are not there. These are very important and an observation will be rejected without them.
I SIGNED UP WITH THE WRONG EMAIL, HOW DO I GET PAID?
There are two email mistakes that we see frequently.
Typo. If you have a typo in your email, you will need to contact

support@observanow.com

to have us fix it in our system.
Wrong email. If you used a different email than the one connected to your PayPal, but it is still your email, then you can go into PayPal and add that email to your account.
I HAVE A QUESTION OR NEED HELP. WHO DO I CONTACT?
Send an email to support@observanow.com that includes your name, your Observa account email address, and the issue you are having. If you are having trouble with the Observa mobile application, please include your phone model in your email. We strive to respond to inquiries within two business hours.
TAKING A GREAT SECTION PHOTO
Section Photo- A section photo is a photo that shows a section of the aisle from a head-on perspective and includes every shelf from the floor up to the top shelf. 
For example: If we are looking for a jar of sauerkraut, and ask for a section photo of the European Foods section, we are asking for a photo of all the shelves around the sauerkraut. Not just the small area of the shelf that holds sauerkraut, but all the products in the European Foods section!
The section photo should show the entire area in the aisle where the product is located from left to right and from the floor to the top shelf. Here is an example of a proper section photo: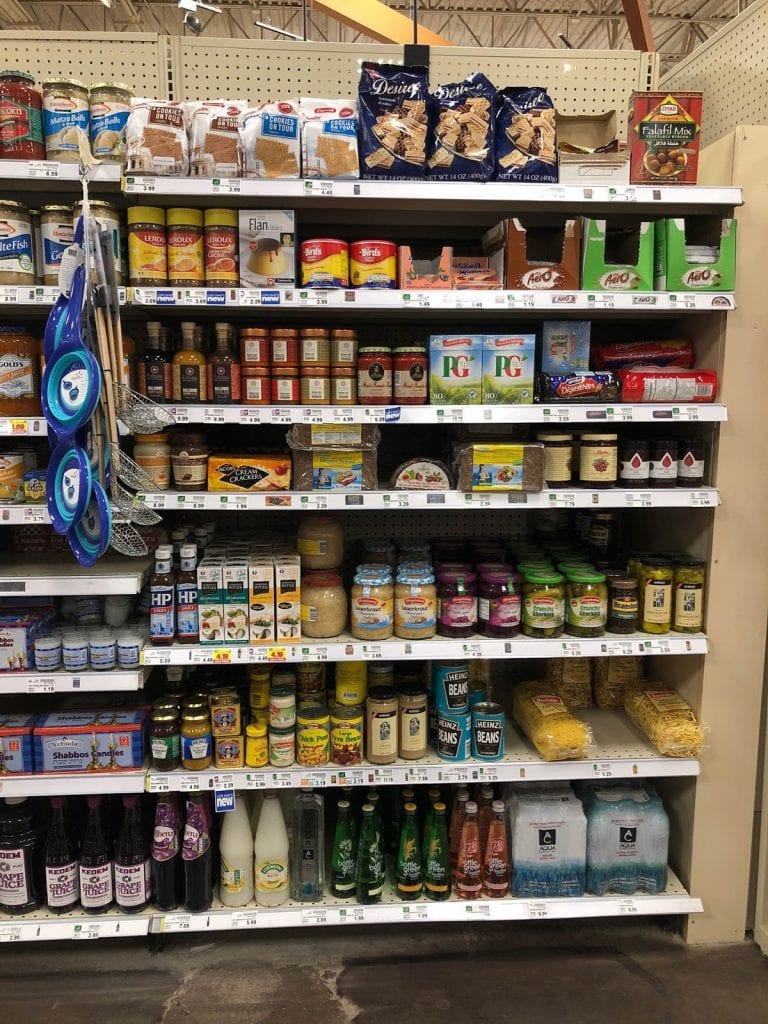 Note how you can see the products from the bottom shelf all the way to the top; the photo is in-focus, and the observer was facing the aisle directly so the price tags and product labels can be read.